Details
ARE OUR SPECIALTY

Ciboney Cuban Restaurant, a unique Miami culinary experience, specializes in Cuban-American cuisine and specialty drinks. Located in the popular Miami Lakes neighborhood, we feature an exceptionaldining experience along witht a tropically pleasantthemed interior.
As you taste the exotic flavors of our authentic dishes we welcome you to Indulge in the delicious, fancy cocktails, and enjoy the exciting music and beautiful culture of everything that is Cuba.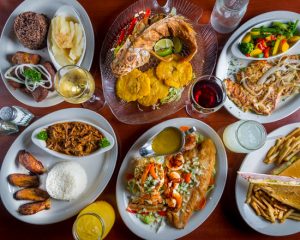 What Clients Say

So delicious! I always make sure to stop by Ciboney whenever I'm in the area. I used to go a lot back when I lived in Miami Lakes. All of the plates are delicious and fairly priced. There's also a lot of parking since it's in a shopping center. They usually have live music on weekends. Good atmosphere and yummy food!
Ciboney is as authentic as it gets. Tasty food at an extremely reasonable price. If you're in the area, be sure to stop by to enjoy delicious Cuban food! There is live music at times, which really makes your visit that much better. This is the best Cuban place in the area, and I couldn't be more satisfied with my experience over the many years I've been going.
This was about he 7th time I've been here and it NEVER disappoints. My waitress tonight was Yordangela and she was great. Super nice and quick with our orders. There wasn't much of a wait time but it might of also been because the live music and comedian kept us entrained. GREAT PLACE FOR CUBAN FOOD AND GREAT MUSIC 🙂
Experience
THE DIFFERENCE

Ciboney Restaurant is known for using only the freshest and natural ingredients. We create simple, yet elegant dishes that fill the room with a wonderful home and aroma. And the taste, well …. you will have to come visit to get the full flavor report.The extensive menu is dressed in the traditional culinary garb of Cuba — ropa vieja, paella, tender palomilla steak, the famous Cuban sandwich, slow-roasted juicy pork, the traditional Vaca frita, shrimp, lobster, and Arroz con Pollo(chicken and rice). 
LOCATION
18474 NW 67th Ave
Miami Lakes, FL 33015
OPENING HOURS
Monday - Sunday
9:00 AM - 10:00 PM